WELCOME TO THE NEW JASON THOMAS RACING WEBSITE!!
Jason is a British-Born Cross-Country Motorcycle Racer who competes mainly in The United States Of America and Canada.This site has been designed so you can follow Jason`s progress as he takes on the Worlds best Off-Road Racers!! His most recent race details are shown below,and past race overviews can be found in "Race Reports".Jason's current race schedule can be viewed by clicking the "Races" tab above.
THANKYOU & ENJOY!!
Latest Report
PALMER MOTORSPORTS JASON THOMAS BECOMES FIRST EVER GNCC FMF XC3 CHAMPION!!
1st Oct 2017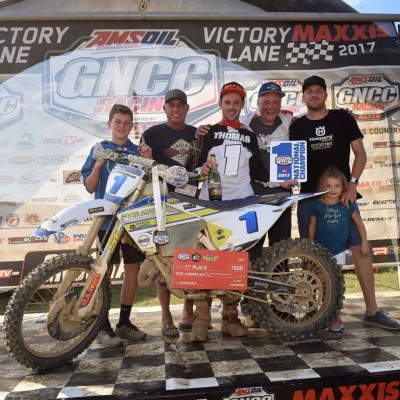 GNCC Championship - Round Eleven - Marvin's Mountain Top, Masontown, West Virginia.
His Sixth Win of the 2017 Season was more than enough to crown Palmer Motorsports Jason Thomas the first ever GNCC FMF XC3 Champion. In a Season packed with great results, this was surely the icing on this colourful Racer's cake. On a day of unseasonally hot weather, the rocky, technical Marvin's Mountain Top track proved to be the perfect showcase for Thomas's well honed GNCC Racing skills. Aboard his Palmer Motorsports two-stroke Husqvarna 125, he dominated the race from start to finish. At the chequered flag, emotions came to the fore, as Jason, who has already announced his imminent retirement from professional racing, made his way to the top step of the GNCC Podium for possibly the last time. After due thanks were given to all those very many individuals and companies who have helped him over the past decade, it's fitting that one of GNCC'S greats, Rodney Tomblin, should give this extraordinary racing personality a final, moving tribute.
  "Sunday was a bittersweet day for one of the most storied riders of the present day. Jason Thomas came to the US. and GNCC with a bang and left with a bang in a sense. From his first-ever win at the Yadkin Valley Stomp GNCC in 2008, to his closing win at the Mountaineer Run GNCC, Jason Thomas brought more to GNCC than many may ever realize. He was certainly controversial at times and very colorful with each step of the way. Standing back up each time he was knocked down, stronger and more determined than before. Jason's colorful personality brought more attention than any single other rider in the last twelve years combined of racing. Like, love or hate him, Jason Thomas weathered every storm and forever etched his name as one GNCC's greats. Jason brought the attention of the rest of the world and kept them interested. Thank you Jason for bringing everything you brought when you came to GNCC. Farewell friend and we hope things bode well for you in the future. Something tells me though that you will accomplish whatever you set out to do. If for no other reason than to just tick everyone off. That's what we love about you."